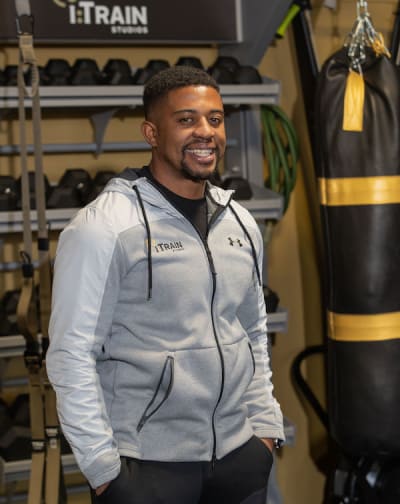 Wayne Mutata
Head Lion Wayne Mutata Owner / Personal Trainer "Our clients walk into the Studio for the first time fearful and hesitant, but ultimately leave as better versions of themselves. After a few weeks of working with us and being part of the community, they are happier and stronger than ever before. They all inspire me."
When Wayne Mutata was younger, he was living in Zimbabwe with his family. That's where he met a missionary who was also a bodybuilder. Fascinated by the missionary, he began talking to her about his dreams and aspirations. At some point, she showed him a picture of Arnold Schwarzenegger…and that was the turning point for Wayne. That's who he wanted to be.
To achieve his goal of becoming Arnold Schwarzenegger, he began training children in his neighborhood for 10 cents per person, hoping to save enough money so that he could buy a plane ticket to America. After 3 years of saving, he finally bought a ticket and made his way to the airport. Before boarding the plane, he was asked to provide his Visa, to which he replied, "Who's Visa?" The attendant disposed of his ticket and shooed Wayne away. Back home, he felt defeated and discouraged. He told his mother, "I can't do it anyway. Arnold is big and I'm not." His mother turned to him, eyes holding his gaze and said, "If size mattered, the elephant would be the king of the jungle. You're a lion!"
Taking his mother's words to heart, Wayne never gave up on his dream and always chased after his passion. But this time, he was a lion. He moved to Lancaster, Pennsylvania in 2005 and worked hard to integrate himself into the health and fitness industry in every way possible. He attended the National Personal Training Institute of Philadelphia, receiving a degree in Physiology and Anatomy with a minor in Dietary Nutrition and Exercise Science. Wayne founded the iTrainStudio (also known as iTrainWithWayne) in 2014 and has continuously helped individuals reach their fullest potential, both mentally and physically ever since. With his magnetic personality, spectacular energy, and upbeat attitude, he brings light into the Studio every day and positively influences those around him. With Wayne on your side, you can conquer any task at hand!
Outside of the Studio, Wayne loves spending time with his son, Xsavior. He can also be found participating in many community events and taking time to catch up with fellow iTrain Studios lions and lionesses.
Certifications:
• CSCS (Certified Strength and Conditioning Specialist)
• NPTI Graduate (National Personal Training Institute)
• Physical Preparation Specialist
• Life Coach
• Precision Nutrition l
• TRX Training Specialist
• Box 'N Burn Certified